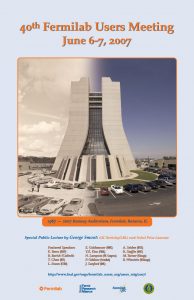 The annual gathering of the Fermilab Users Organization will be held on June 6-7, 2007.
This meeting is an opportunity for discussion of new physics results from the laboratory's experimental program, future initiatives at the lab, and thoughtful presentations from leaders of the scientific policy community.
Topics to be covered at the Users Meeting include:
Collider Physics
Astro-particle Physics
Neutrino Physics
Future Plans
Information
 Registration | Agenda |
This year, both an Outreach Workshop and a Grad Students' Meeting / Career Night (sponsored by the GSA) will be held in association with the Users Meeting on June 5. Watch this page for links to more information on those associated meetings as they become available.
Reserve Tickets (for the public lecture by Dr. George Smoot)
The Smoot lecture is now SOLD OUT. If you have reserved tickets, you must pay for them by 3 pm Wednesday, or they will be released to the waiting list. Two alternatives: pay for and pick up your tickets at the Box Office desk in the Users Office area, WH1W, or pay for the tickets by phone at 630/840.2787 (ARTS) and pick them up at WILL CALL on the night of the lecture.
Poster Session in the Atrium
Town Hall Meeting on the Future of Fermilab
This is the 40th Anniversary of the first Users Meeting.
Photos from the 2007 Meeting and Poster session 
Slide show of 40 years of Fermilab Users shown during the Reception (95MB!)
Streaming video of the talks will be available during the meeting. Archives of the audio + slides will be available after the meeting.
Questions? Send us email!