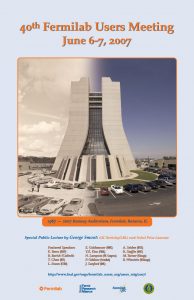 A distinguished group of keynote speakers has been assembled for the 2007 Users Meeting.
Professor George Smoot 
University of California, Berkeley, and Lawrence Berkeley National Laboratory
Co-Winner, Nobel Prize in Physics, 2006
Dr. Smoot will deliver a public lecture the night of June 6. The title of his lecture will be "Relics of Creation: The Big Bang, the COBE satellite and the Cosmic Microwave Background (CMB)"
Hon. Nick Lampson (D-TX)
U.S. House of Representatives, Chair of House Science Committee's Subcommittee on Energy
Dr. Kathryn Beers
Acting Associate Director for Physical Sciences at the Office of Science and Technology Policy (OSTP)
Dr. Robin Staffin
Director, DOE Office of High Energy Physics
Professor Barry Barish
California Institute of Technology
Director of the ILC Global Design Effort
Dr. Tony Chan
Director of the Division of Mathematics and Physical Sciences, National Science Foundation
Dr. Pier Oddone
Director, Fermi National Accelerator Laboratory
Professor Bruce Winstein
University of Chicago
Winner of the APS Panofsky Prize, 2006
Professor Michael Turner
University of Chicago
Professor Abe Seiden
UC Santa Cruz, Chair of the P5 Subcommittee of HEPAP
Dr. Lyn Evans
CERN
Dr. Edwin Goldwasser
Founding Deputy Director, Fermi National Accelerator Laboratory (1967 – 1978)
Dr. James Sanford
Brookhaven National Laboratory (retired)
First Chair of the NAL Users Organization (1967)
Former Associate Director for Program Planning, Fermilab
Dr. Young-Kee Kim
Deputy Director, Fermi National Accelerator Laboratory
As at last year's meeting, another feature will be talks from graduate students, selected competitively from the graduate community. Nominations for these talks are being accepted now.