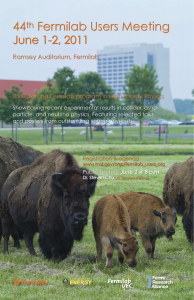 The annual gathering of the Fermilab Users Organization will be held on June 1-2, 2011.
This meeting is an opportunity for discussion of new physics results from the laboratory's experimental program, future initiatives at the lab, and thoughtful presentations from leaders of the scientific policy community. The meeting will also feature selected talks from outstanding young physicists.
Topics to be covered at the Users Meeting include:
Collider Physics
Astro-particle Physics
Neutrino Physics
Future Plans
Information
Registration | Agenda |
Scheduled speakers include Steven Chu (Secretary of Energy), Michael Procario (DOE Office of High Energy Physics).
The GSA poster session will be held on June 1st at 5:30 pm in the Atrium.  The GSA New Perspectives conference will be held May 31 in 1 West.  More information about submitting talk and poster abstracts will be available at the New Perspectives webpage.
Tickets for Steven Chu's public lecture are sold out!
The Public Lecture held in conjunction with this year's Users' Meeting will be given by Secretary of Energy Steven Chu.  Tickets are free and are available on a first-come/first-served basis, so you must reserve them in advance and there is a limit of 4 tickets per person.  Tickets are available at the Arts & Lecture Series Box Office located on the 1st floor of Wilson Hall in the Users Office area.    More information by phone at 630.840.ARTS (2787) or on the web at www.fnal.gov/culture under the "Lectures" tab. Registering for the Users' Meeting does NOT automatically reserve you a ticket for the Public Lecture!
Festa Italiana
The popular Festa Italiana will be held in Kuhn Barn on June 2.