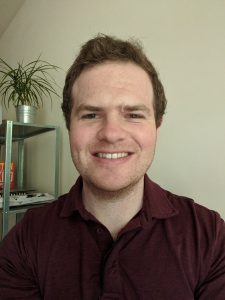 Ashley Back
Indiana University
Statement
I have been a postdoc for almost four years now, working initially on NOvA and ANNIE with Iowa State University and (as of November 2019) on NOvA and DUNE at Indiana University. When I arrived at the lab, from the UK, back in November 2016, I was very grateful for the warm and welcoming sense of community, which is in a large part due to the great work done by the UEC and FSPA. I wanted to contribute to this by serving on the UEC and I was delighted to be elected last year for the special 1-year term. For this term, I have served as co-deputy chair of the Users Meeting sub-committee and also as UEC webmaster and secretary – the latter involving taking detailed live notes, which has become increasingly important contribution now our monthly meetings are virtual.
2020 has been quite a year. The horrific murders of George Floyd, Breonna Taylor, Ahmaud Arbery and others, and the subsequent protests in support of Black Lives Matter, have further highlighted the deep racial injustices that already existed in our society. This, along with the global pandemic, that we are still in the midst of, has caused feelings of pain, loss, anxiety and isolation for many of us. We, in the Users Meeting organizing committee, thought it was more important than ever to bring our community together in these uncertain times and were able to navigate a constantly changing landscape to host a virtual Users Meeting in August. I played an essential role in curating a balanced scientific program, securing speakers and handling lots of technical and logistical aspects associated with Zoom webinar and Mozilla Hubs. Throughout this process and the events of this year, I have learnt a lot about the privilege I have as a cis-gendered, white male and some of the ways I can use this privilege to advocate for members of our community, from my position on the UEC.
The UEC is sometimes seen as lacking in accountability or transparency or slow to act because of the procedures in place, but I also think the UEC acts as a crucial voice advocating for our science in congress and holding the directorate accountable. Ultimately, I believe the UEC is a force for good in our community and I want to continue building on the changes and ideas we've worked on this year and the skills I've learnt, which is why I'm seeking re-election for a full 2-year term. During the Users Meeting planning, Cindy Joe (our 2020 Users Meeting Chair) said something that stuck with me. It was about the various disconnects we see: whether between scientist and non-scientist staff at the lab, early career researchers and the uncertain job market or in the disengagement felt by our Black colleagues. If re-elected, I would like to continue the great work that has been done in the Users Meeting sub-committee towards engaging all users and Fermilab employees and overcoming these disconnects. I think one of the most important roles of the UEC is in fostering a respectful, equitable and sustainable community.