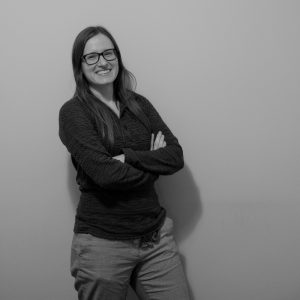 Nadja Strobbe
University of Minnesota
Statement
I came to Fermilab in 2015, when I started as a Research Associate working on the CMS experiment. I spent four years at the lab, until a little over a year ago, when I became an Assistant Professor at the University of Minnesota. Through the LPC, I remain very connected to the lab and the people here. If it weren't for Covid-19, I'm sure I would have made the trip many times already.
During my time at the lab, I experienced first-hand what a welcoming environment we have here. It started already when I first arrived. Not only was I new to the lab, I was new to the US as well, and didn't know anyone yet. That didn't last long, however! Some of the LPC postdocs mentioned the Friday night gatherings at the Users' Center, so I showed up, and, before long, was part of brand new group of friends. As other new people arrived to the LPC, I made it a priority to ensure that they felt that warm welcome as well. Apart from the personal connections, the welcoming environment also has a very positive effect on the physics research done at the lab. When everyone feels valued, and people have open doors, many fruitful discussions occur, and the field is pushed forward.
I strongly believe that the community that exists at Fermilab is something quite special, and we must do everything in our power to ensure that it persists. Much of this responsibility rests in each of us, as members of the community, but the UEC is ideally placed to make a big impact by addressing issues that affect all of us. I would make it my priority to ensure that everyone that comes to the lab has as wonderful an experience as I had, regardless of who they are or where they come from. My varied experience as an international arrival, as someone based at the lab, and now as a user interacting with the community remotely, will be a great asset to making sure that we address the needs of everyone in the community.
The success of the lab, its science, and the careers of its users, ultimately lies in the continued funding of our field. The annual DC trip organized by the UEC is of paramount importance here. It allows us to remind lawmakers that we do great science, train the next generation of scientists who will drive innovation, and provide investments in local industry to help build the next experiment.
I look forward to the opportunity to serve our community as a UEC Member, and, with your input, shape the future of the lab!