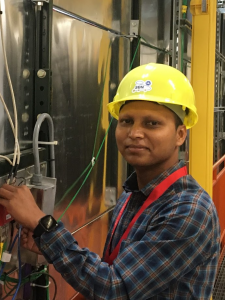 Biswaranjan Behera
Colorado State University
Statement
Hi everyone, Hope you and your family are doing great and safe! My name is Biswaranjan Behera. I'm a Postdoctoral Research Associate at Colorado State University working on ICARUS and DUNE experiments. As a graduate student I have worked on the NOvA experiment. I have been very fortunate to be a part of the Fermilab community ever since I first moved to USA in 2015. I have been staying at the Fermilab village since then. I feel that Fermilab has become my second home as I have spent more than six years working and living my life here. During this time, I have been fortunate to meet many hard-working young colleagues and scientists who have shown to me the significant contributions we can make as early career scientists, the potential we hold to work together to bring forward positive changes not only in the scientific community, but to the society as a whole.
Being an international student myself, I have experienced that the UEC does lend a warm welcoming hand to people who are new to this country, trying to embrace a new language, and a new culture. The presence of UEC members makes it easier for international people to work better as it provides a social support by means of cultural events for different communities, ensuring that everyone has the resources needed to get settled into this community. I would very much like to be that person to share my experiences and be there for our new members if elected to the UEC.
During my time at Fermilab, I have been fortunate enough to work at several neutrino experiments and participated in several outreach activities that provided me an opportunity to understand the strengths, and the importance of diversity, and inclusion at the lab and its various research programs. In the past, I was elected by my peers to represent young NOvA within the collaboration on the NOvA institutional board. Recently I took on the role of convener in ICARUS. I believe that I am an easy approachable person to work with, I enjoy mentoring Ph.D and summer students. I am keen to continue working to create a respectful and supportive environment where everyone can flourish.
As UEC member, using my own experience of spending time at the lab and at Fermilab village, I would provide a voice from the Fermilab users perspective and keep them updated on the developments. Moreover, I will be open to hearing your concerns and will do my best to address any issues. It would be a pleasure to give back to the Fermilab community by serving as a UEC member and helping to strengthen our users community, ensuring that every users meets each of our individual professional and social aspirations. Stay safe! Thank you!