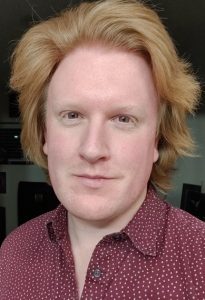 Joshua L. Barrow
Tel Aviv University and Massachusetts Institute of Technology
Statement
I am currently a joint postdoctoral associate at the Massachusetts Institute of Technology, a fellow at Tel Aviv University, and am supported as a Zuckerman Postdoctoral Scholar. Today, I focus mainly my work on an R&D online triggering project within the MicroBooNE experiment, hoping to capture quasielastic-like single proton events coming from cosmic muon scattering events within the LArTPC; I'm happy to say this project has helped me gain substantial DAQ experience in a matter of months. Being lucky enough to do this work onsite again has been stupendous. My near future work will focus on charged-current quasielastic-like single proton double differential neutrino cross section measurements in MicroBooNE, as well as continued GENIE event generator development for the Electrons-for-Neutrinos (e4nu) Initiative.
I first visited Fermilab in January 2019 as a graduate student from the University of Tennessee under the support of the DOE Office of Graduate Student Research fellowship program, focusing for a year on DUNE's potential to observe rare intranuclear processes such as neutron-antineutron transformations and proton decay despite  their associated atmospheric neutrino backgrounds. During this time, I also began a project on implementing precision electron scattering theory outputs into the GENIE event generator. This work continued through 2020 with support of the Universities Research Association. Over these two years, I became a regular of the Users Center, and flourished both socially and intellectually from our substantially nourishing, open, culturally vibrant, global, inclusive, socially "flattened" community. Maintaining this dynamic and engaging social-scientific structure is of key importance for our community in the Time of COVID; my own professional success-thus-far would be nothing without it. Each of my projects was incalculably dependent upon input and collaboration from Fermilab graduate students, postdocs, and scientists, all users, each making me feel more and more incredibly welcome within our stimulating community. These projects formed the foundation of my dissertation work, and so I owe Fermilab and its users more than I can fathom. I hope I can help pay back that debt in part by serving as a representative for our users by advocating for and actively facilitating the same social-scientific benefits I enjoyed as a graduate student, both to our leadership, and beyond.
I have garnered some significant organizational and leadership experience through the APS DPF Snowmass 2021 Community Planning Process as a member and leader within Snowmass Early Career and as a liaison to the Rare Processes and Precision Measurements Frontier. Through the network I made while at Fermilab, I also helped lead and co-organize the successful Theoretical Innovations for Future Experiments Regarding Baryon Number Violation, a Snowmass-official workshop. I hope to bring this experience and advocacy garnered within Snowmass and Snowmass Early Career to the UEC, and hope to be a fierce advocate for the lab and its users within projects highlighted by Snowmass.
I want to thank those who saw me as a good fit for this seat; I appreciate your faith in me—it truly is a privilege. Becoming a part of the UEC and helping to mold current and future Users' experiences of Fermilab during these continuingly difficult times is a tall order, but one which I hope to take on. I believe we can at least partially rebuild and maintain a large part of our collective community's nourishing, inclusive, and open character for the next generation of students, postdocs, and scientists with enough work and engagement, and I hope to help make this a reality.